Hey Physsoc! My name is Chelsea Dunning, and it feels like a lifetime ago remembering my life in the Physsoc lounge playing foosball, building couch forts, and doing derivations (or drawing Einstein caricatures) on the chalkboard. I was the President and Grad Representative in the 2014-2015 academic year. Other notable positions I've held on the Physsoc council include the Social Coordinator in the 2013-2014 year, the Cookie Monster before that, and finally ascending to the position of Zeus af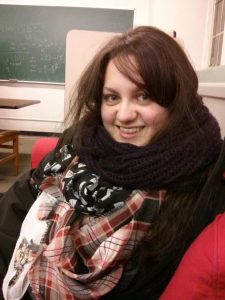 ter graduation in the 2015-2016 year. I graduated with my Bachelors' degree in Honours Physics in 2015, and immediately following I defected over to the University of Victoria for my PhD in medical physics. Now, I do CT imaging research at the one and only Mayo Clinic!
My choice of UVic for medical physics was heavily influenced by my time as a student researcher at TRIUMF. I spent nearly 2.5 years at TRIUMF doing various research projects in radiation safety, detector physics, and proton radiotherapy. I also just could not leave the west coast and UBC wouldn't accept me into their grad program. I finished my PhD at the end of 2020 (despite the pandemic) with my dissertation focusing on building a combined x-ray fluorescence computed tomography (CT) and photon-counting-detector CT system for the purpose of imaging novel contrast agents applicable to various medical applications. I was lucky to work with an attentive and well-connected advisor, and I find the field of medical physics, particularly medical imaging, to be exciting and challenging! Graduate school certainly had its challenges; I found it very different from my undergraduate coursework but similar to when I worked at TRIUMF, but the most important factors to consider before choosing a graduate program are the advisor and the congruence of the available projects with your research interests. You can gauge whether an advisor's supervisory style will work for you if you talk to current or former graduate students. And finding out what research topics excite you is precisely what undergraduate research is for! You can always change your mind later.
Almost immediately after my PhD, I left the west coast and started a position as a postdoctoral research fellow in the CT Clinical Innovation Center at the Mayo Clinic at the start of 2021. I use my multi-tasking abilities to work on several projects at once, which I developed from having to juggle several courses. I've really enjoyed playing with some big toys so far and knowing my research will one day make an impact, plus I still do lots of programming and use physics concepts daily despite working at a large institution full of medical doctors and life scientists. In the real world, everything is interdisciplinary, and I believe research is most impactful when you transcend across fields to solve a problem (for example, how is artificial intelligence going to help radiologists diagnose a disease?). I haven't enjoyed the cold Minnesota winters so much, but I'm starting to pick up some new winter hobbies.
I'm happy to report that after I finished my undergraduate coursework, it became way easier to balance research/work with hobbies, family, relationships, and other life things. One important piece of advice I have is to try to talk to and learn as much as you can from each mentor, professor, and peer you encounter andkeep in contact with them. You are who you surround yourself with, and here you are learning at one of the best universities! Plus, you never know who may be hiring or knowsomeone hiring down the road 😉. Also, don't forget to take time to reflect on all your achievements so far, and don't be afraid to apply for big opportunities. If you have any questions about my career path, need advice, or want to chat about the finer points of couch fort architecture, feel free to drop me a line at cas.dunning@gmail.com, or follow me on Twitter @casdunning. Cheers!
Thank you Dr. Chelsea Dunning for taking the time to write an alumni spotlight!